So! Haven't blogged in a little while. Nothing interesting, no worries.
Bee & I caught
The Devil Wears Prada
on Tuesday, which turned out to be pretty good. Granted, movies adapted from books have always been disasters (read: The Da Vinci Code) but this turned out pretty well, although I was disgruntled by a few facts. Like Miranda Priestly being humane. Allowing room for sympathy, which is not supposed to be. She's Miranda Priestly! I would have loved to see B-DAD as well. & Christian is supposed to be good-looking. Not scruffy, & looking like he has squinty eyes. & I didn't like the Nigel twist in the end. I prefer the original one where Alex yelled 'Fuck you' at Miranda & made a name in the papers.
Anyways! My boyfriend was sweet that day. He satisfied my Shabu-Shabu craving. :) I didn't think he would. I merely said that I was craving the beef & the noodles & the porridge & he brought me to his parents' restaurant! & I had the yummiest steamboat of beef & veggies, & my favourite dried noodles tossed in chilli, the soft Chawanmushi, & of coz', the best porridge ever. EVER. That's the best porridge I've ever eaten in my entire life.
So if you're looking for some authentic Japanese fare, go to Azuma Japanese Restaurant at Cuppage Plaza, level 3. Bee's daddy will converse with you in fluent Japanese if you wish. & the Shabu-Shabu is the biggest attraction there, & the sushi as well. His daddy makes the sushi at the counter, fresh! Although you might want to come prepared. Good food don't come cheap? ;) Ting would know!
Oops. A little bit of shameless plugging there!
Oh, & I saw the kookiest notice ever, on a door in Plaza Singapura's MJ. Bee & I were browsing the DVD titles, & then I felt Bee froze up. I realised he was staring at this door, which seemed like a storage door. & on the door was this handwritten notice: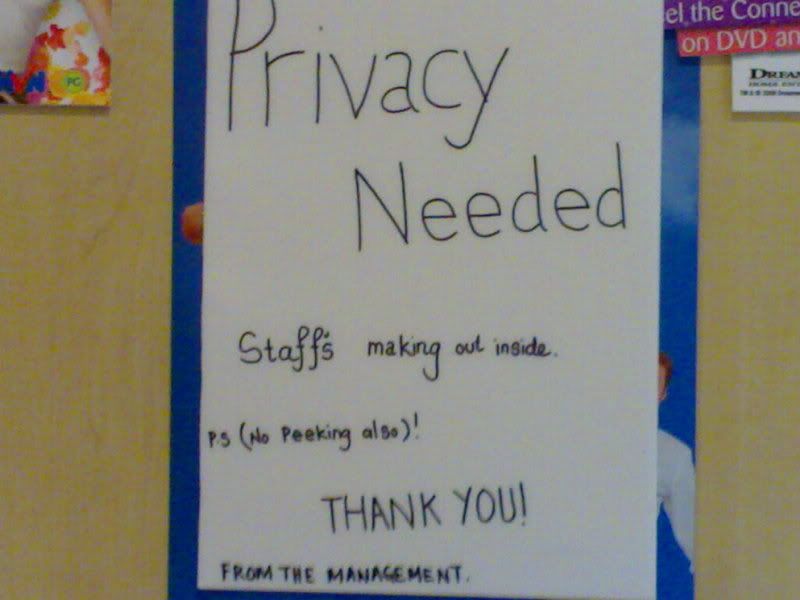 If you have eyesight problems, it says:
"Privacy Needed
Staff's making out inside.
P.S. (No Peeking also)!
THANK YOU!
FROM THE MANAGEMENT."

& I just stood there & laughed at the door for the LONGEST time ever. I wonder, really. I had to resist the urge to open that door.

Well, we spent most of the past 2 days staying at home, watching rented DVDs on his fab teevee & sound system. -inserts eye rolling- Yes dear, your home theatre system is spiffy. Hehe.

Well, we watched Hoodwinked, The Wild & She's The Man (I'm an IMDB freak, sorry) & I must say, I'm pretty glad for our movie choices. Hoodwinked was sarcastic funny. & it was a fresh breather from all those fairy tales. The Wild fell short of expectations though. I didn't laugh much, except occasionally at the koala's antics. She's The Man is really good. It cracked me up. I've never liked Amanda Bynes. I didn't like her in her debut solo lead in What A Girl Wants, because she just didn't look very...likeable in the posters. & she's not EVEN pretty! But hey, I was really impressed with her in She's The Man, because she pulled off everything with grace, & she was a natural.

& yays! Valerie has received my parcel! I was worried that it was lost after 1 & a half weeks but she has gotten it! I hope you like it!

Yep, so well, school starts in 2 weeks & I'm actually kinda excited. :)