ADVERTISEMENT FOR TING'S SALES BLOG
Aren't these items gorgeous? Of coz' they are! My best friend bought them. She has quite the fashion sense, but unfortunately, she doesn't have that same sense in monetary terms.
Most of these dresses are brand new, or only worn once. Reason being the dresses don't fit her, or she simply has overbought. (Last I heard, she had TWO cartons of new clothes hidden in her boyfriend's place, as she was worried that her mom would kill her. TWO FREAKING CARTONS. I think ALL my clothes won't even fit ONE carton.)
So, Ting has decided to put up most of them for sale!
These items are just SOME of what she has for sale on her blog right now.
Above 3 photos courtesy of MsDivineShopper. (That's not Ting.)
Above photo courtesy of NellyJoy. (That's not Ting either!)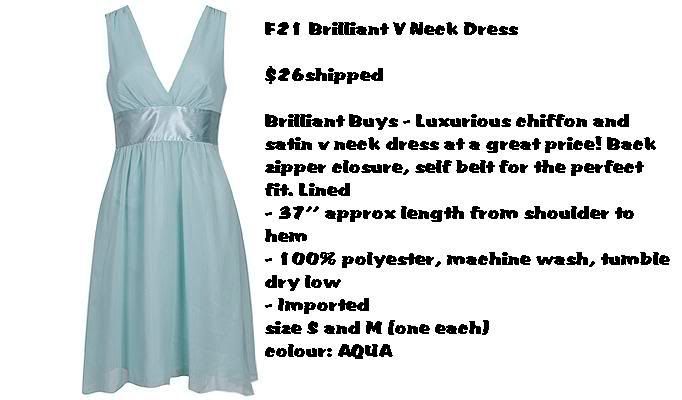 A Lulu bag.
If you like what you see, please go to her blog for more! Everything is priced reasonably, & she often sells brand new items below her purchase price. All the clothes are under S$50, so go see!
The link is here:
Ting's Sales Blog