FINALLY. All the projects are accounted for. We're done for the year. & it's real sad knowing that we're gonna have different classmates again. I mean, there are people in the class that I'll miss sorely & then there are some. *shrugs* But yes, I grew closer to some people & I realise that just because some people don't act the way you expect them to doesn't mean they're bad people. This year, I've seen the real terrible people who think they rule the world, who ACT like they rule the world, & basically just piss the hell out of everyone else for insulting & giving others hell, others who have never stepped on their toes before. Yes, I'm throwing caution to the wind but honestly, I don't know why some people are like that. They probably just have some incurable rotten streak in them.
The people I'll miss are definitely the clique. The short ones. Lol. Skye, Val, YY & Amanda. Yes, I'm gonna miss these sweeties. The bunch who always compromises with Skye & eats with her at Galileo. The bunch who dislikes the same people. & the bunch who laughs at the stupidest things. Of coz' I'm gonna miss Skye so much. 2 years of being in the same class. We've been through everything! I'm gonna miss YY my toilet buddy (no one can ever be patient enough to wait for the both of us in the loo). I'm gonna miss Mandy who laughs like a mad woman & it gets so bad, she'll laugh till she can't speak. I'm gonna miss Val who's the clown of the class alongside Shaun.
I'm gonna miss my magazine group. Yes, I loved my magazine group. We had Val & Shaun the crazy designers who would be at each other's throat when we were too stressed. Leon who we teased for looking like a pitbull terrier. YY who suffered the 'What breed is your dog?' joke. Skye who took pictures of a bowl of soup which P Chan said looks like 'a well'. Amanda who was rushing around headless coz' she had 2 stories to write. Aestee, resident glam queen who poses for every single photo. Sam Chan, the horny girl who tells the strangest jokes. Kuch the quiet but pro one, who writes real well. I really like having them in my group. You guys are the greatest bunch to work with! :)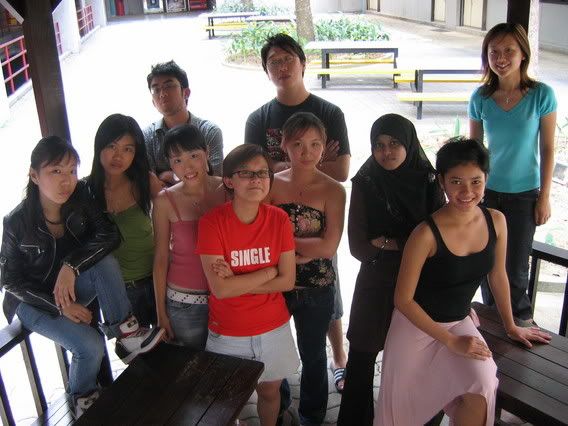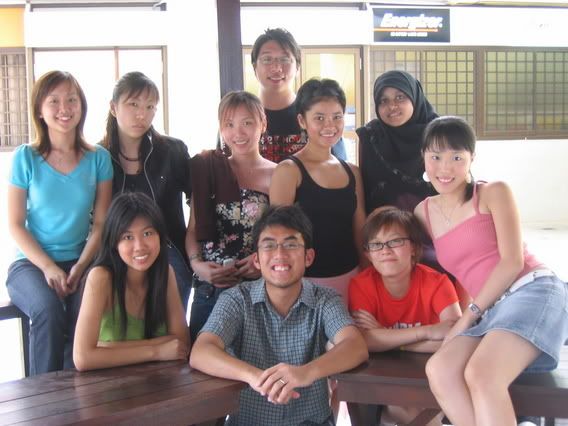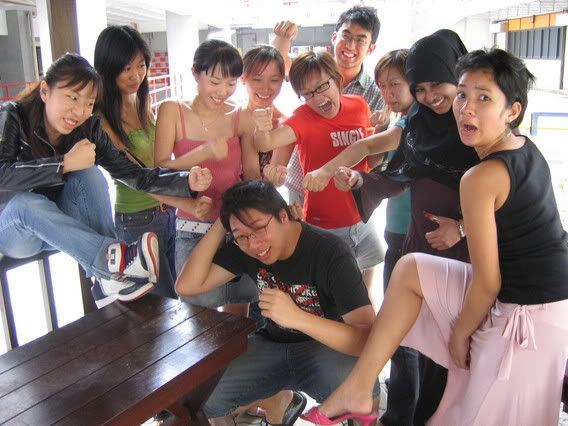 My magazine group!
(Look at Aestee's classic expression!)
I'm gonna miss all these people! Gah. We can always go out eh?
Anyway, we went to print our magazine yesterday & went crazy at the printer's. Can you imagine spending a wonderful Saturday afternooon at the printer's? For like 8 crazy hours? Loads of problems lah. Stupid lousy service. That printer's is blacklisted in my book now. Lol. So yes, we printed & there are some little mistakes we failed to notice but overall, I would say it's really nice! :) Ok, maybe I'm just biased. Lol.
After that, amazingly, it was left with just Val, Skye, Leon & me. Wanted to go singing but K-Box charges some exorbitant rate. It's like daylight robbery. So we ended up at Tanglin Mall's flea market & I got a cheap bag & a Dorothy Perkins' top. & Val is such a bad influence. She would stand next to you & like almost every single item you pick up, she says in your ear: 'Buy it. It's really nice! Quite cheap somemore. Really, if I'm you, I'll buy it.' & I ended up buying those & a Calvin & Hobbes comic book. :) I don't mind actually. I love Calvin. Heh.
Went to Far East after that & the girls went shopping! Wahahahahaha! & Val says the strangest things, really.
Val:
Let's go this shop that sells loads of earrings! Like 2000 designs you know?
*upon reaching*
Val:
*looks at the small display of bags*
Aye, should I get a bag?
Skye:
WAH LAU! 2000 designs of earrings & you come here & get a bag?
& another one at 77th Street
Me:
Aye, that charm bracelet looks nice! The one with that 2 little people hanging off it!
Val:
No, Sam...the little people are damn ugly. They look like they have
gem encrusted genitals.
Me:
Oh.
Gem encrusted genitals. That's very descriptive.
After that, the girls went to CoffeeBean at Scotts for a cuppa, & we had tons of fun there. We took photos, acted retarded, laughed at Val, took more photos, laughed at Val somemore. :) I had tons of fun!
& yes. I'm gonna miss all these people. Sigh. Oh wells. We must go out!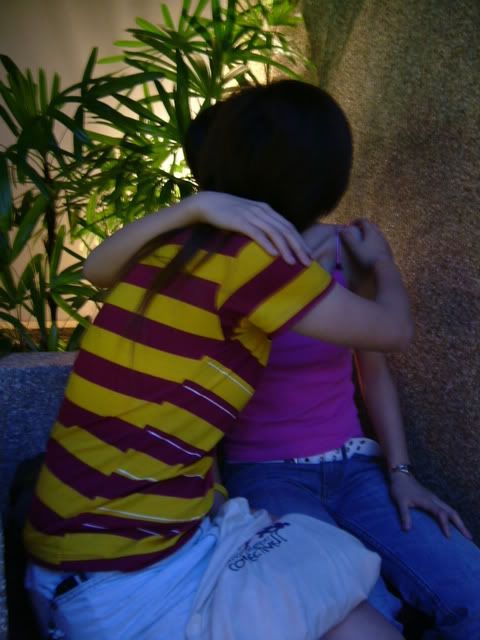 Yes, not very convincing I know. Well, we saw this nice little nook & thought it's such a perfect make-out place so we decided to prove our point.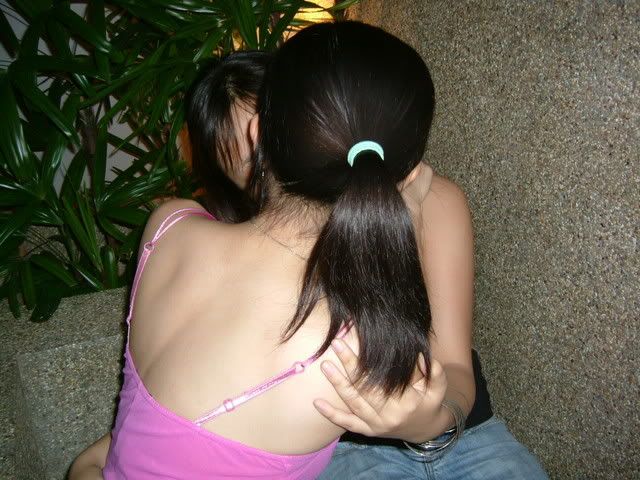 Still not convincing?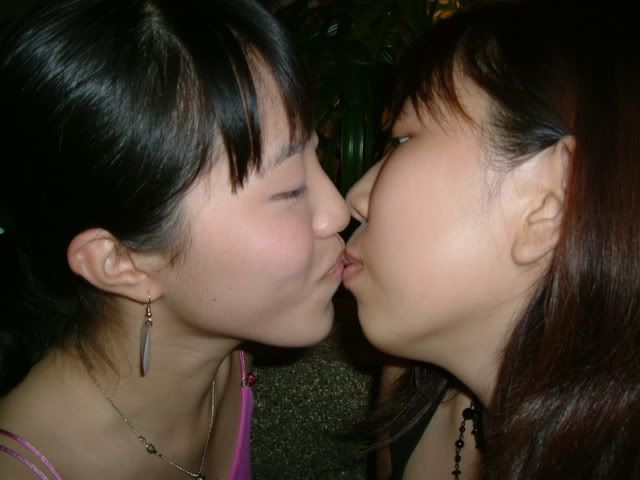 There you go! :) Ok, it was such a difficult shoot. We kept wanting to laugh.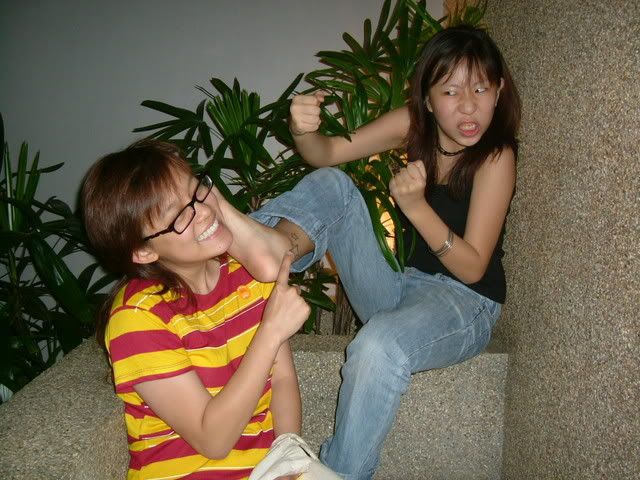 Val: I want one too!
Skye: Go away!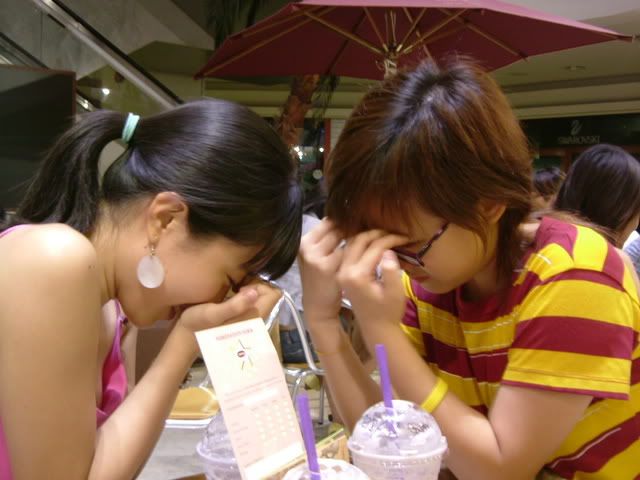 Wah lau, stressed leh!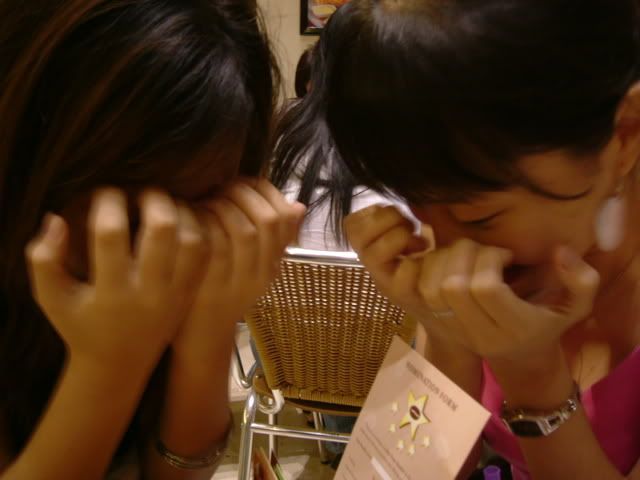 Still very stressed.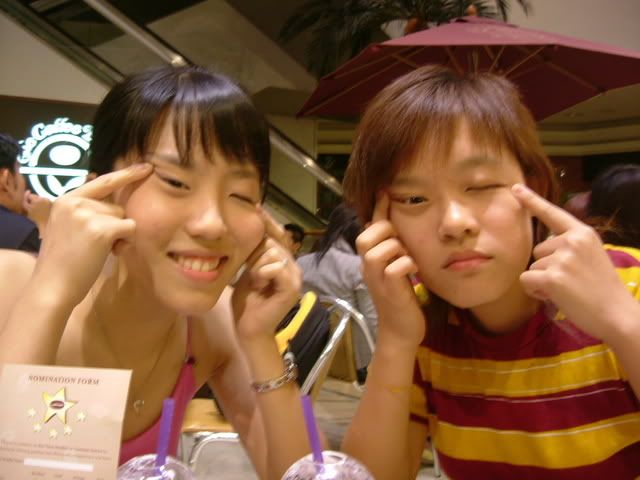 Look, we're Japanese-Chinese!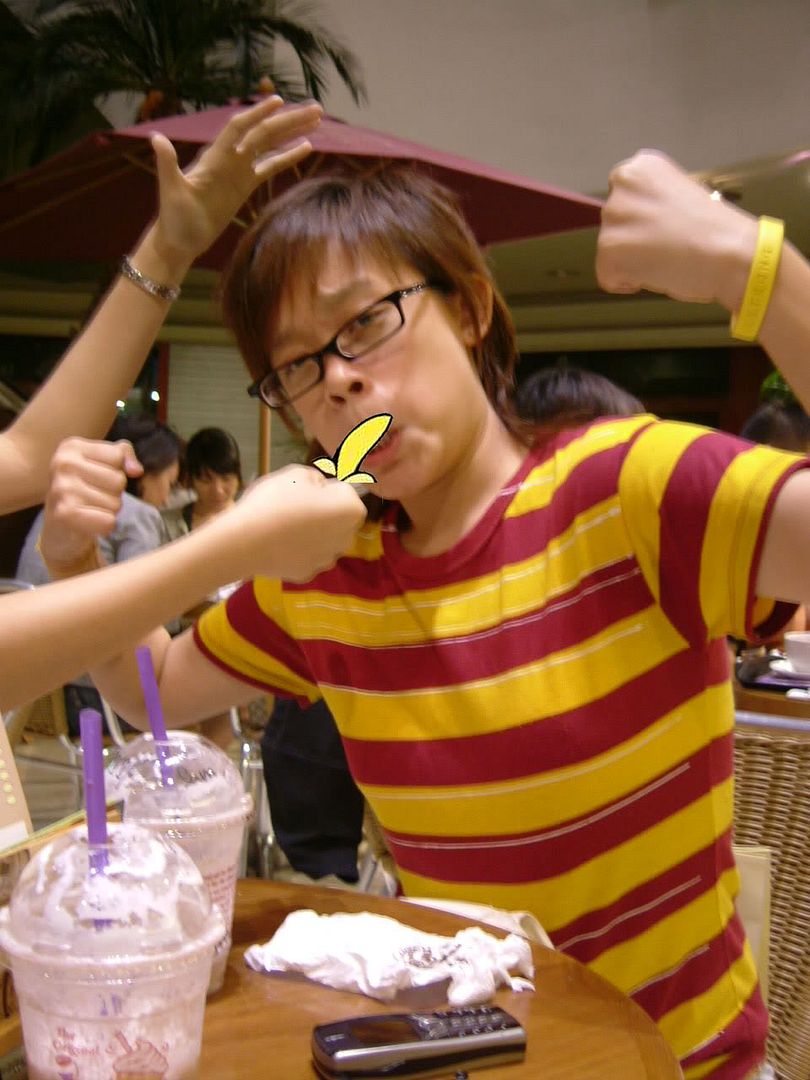 Want a banana?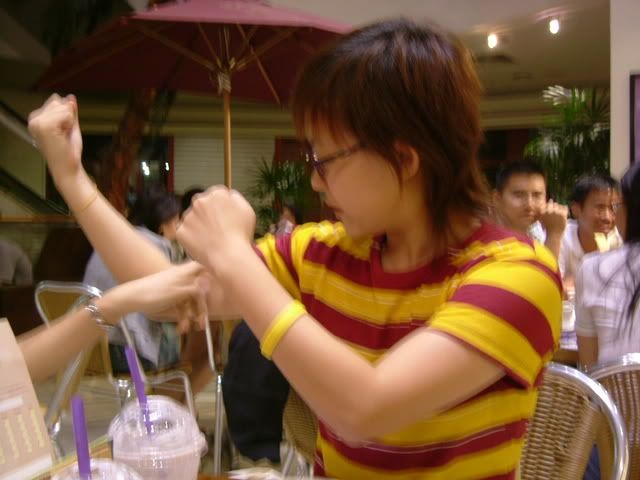 Val: I don't need bananas! I'm muscular! I'm a muscular monkey!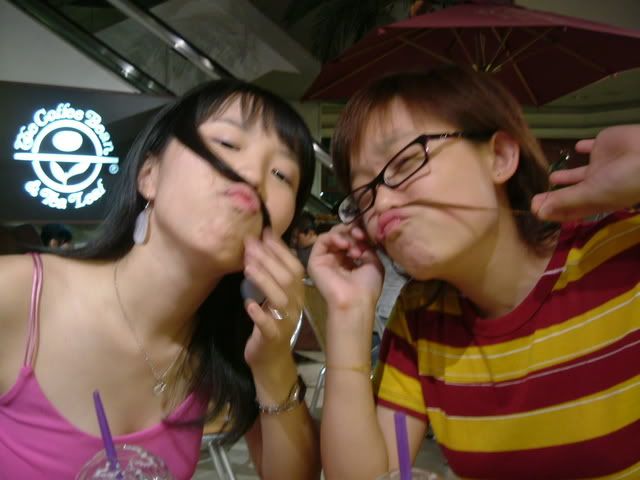 We have got moustaches! Well, mine's fake. I'm not sure about Val's though.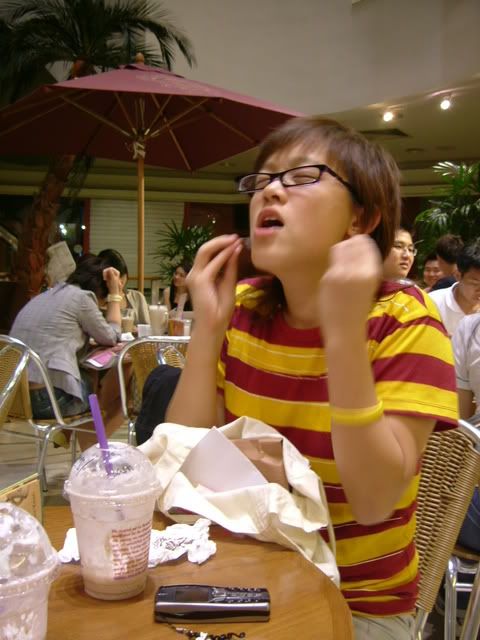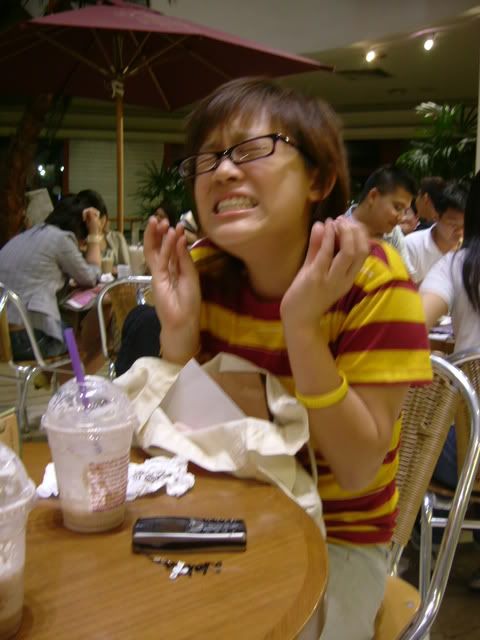 Val imitating someone. Haha!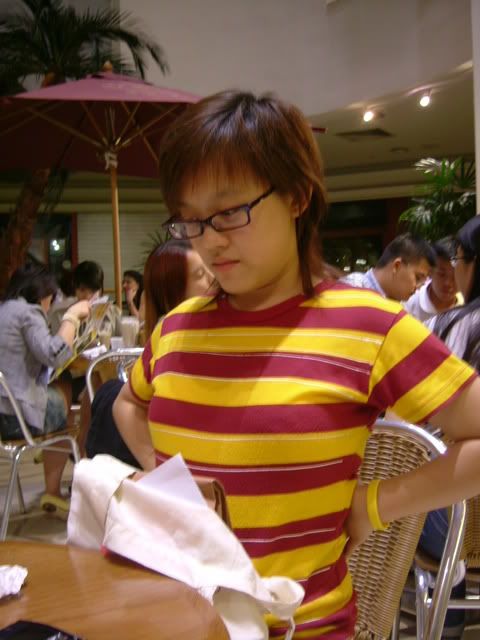 Val: I'm a woman! I have boobs!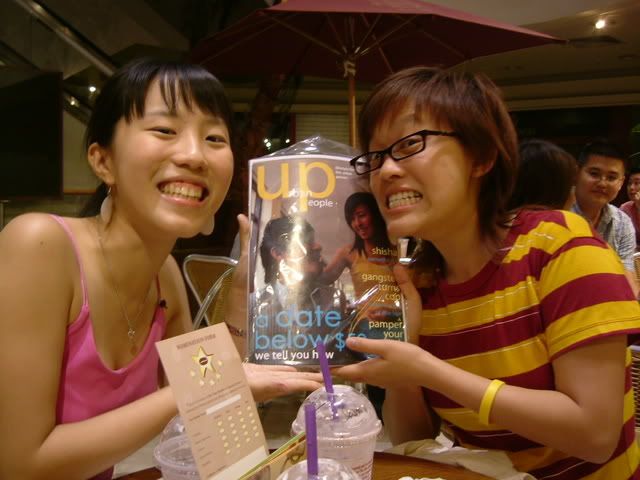 Yay! Our pretty mag! (We're imitating someone too!)
I was showing Val something on my phone. I think she had a huge shock.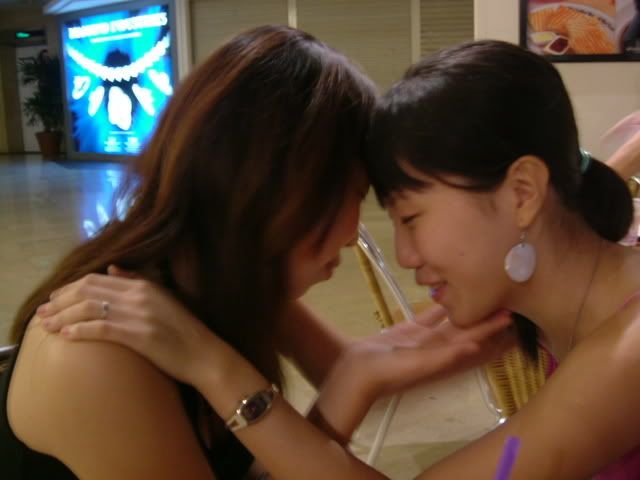 I'm sad to leave Skye.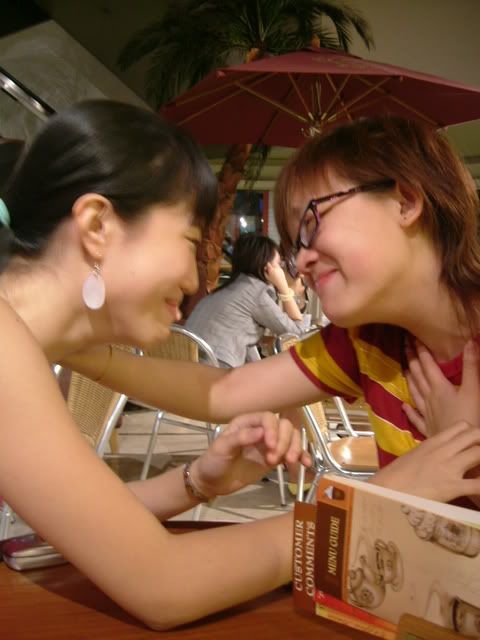 I'm sad to leave Val too. That suppressed grin on my face is actually a frown.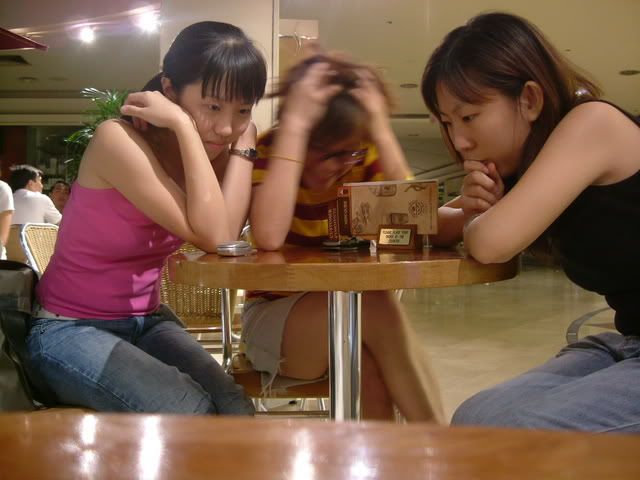 We're REALLY sad to leave each other. Val was so sad she went mad.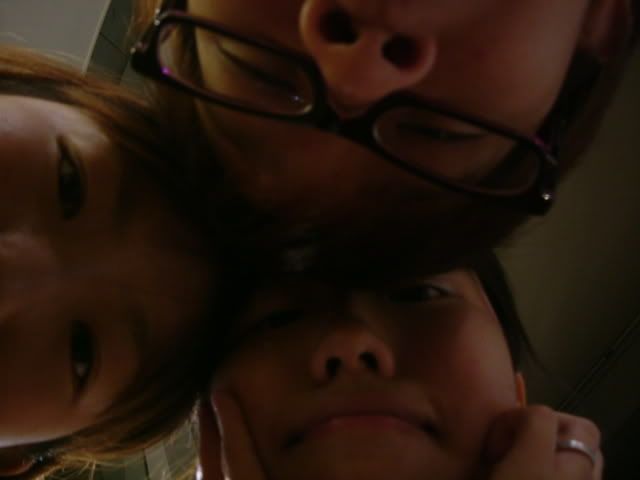 Look at those mournful eyes.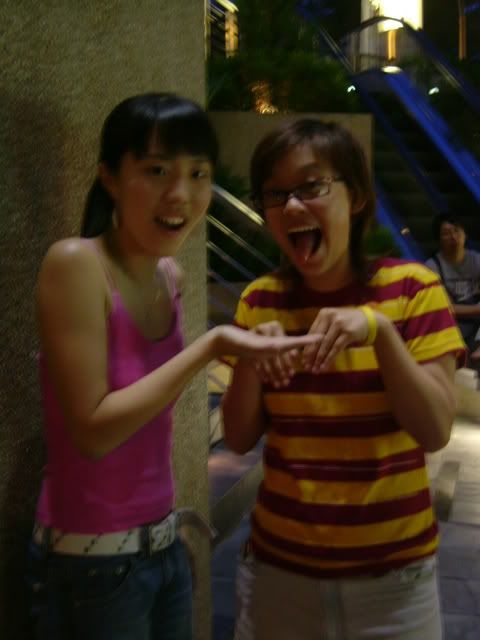 She's not only a monkey, she's a dog too. She's a valbuena.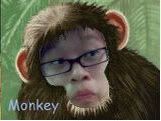 But I still think she looks more like a monkey!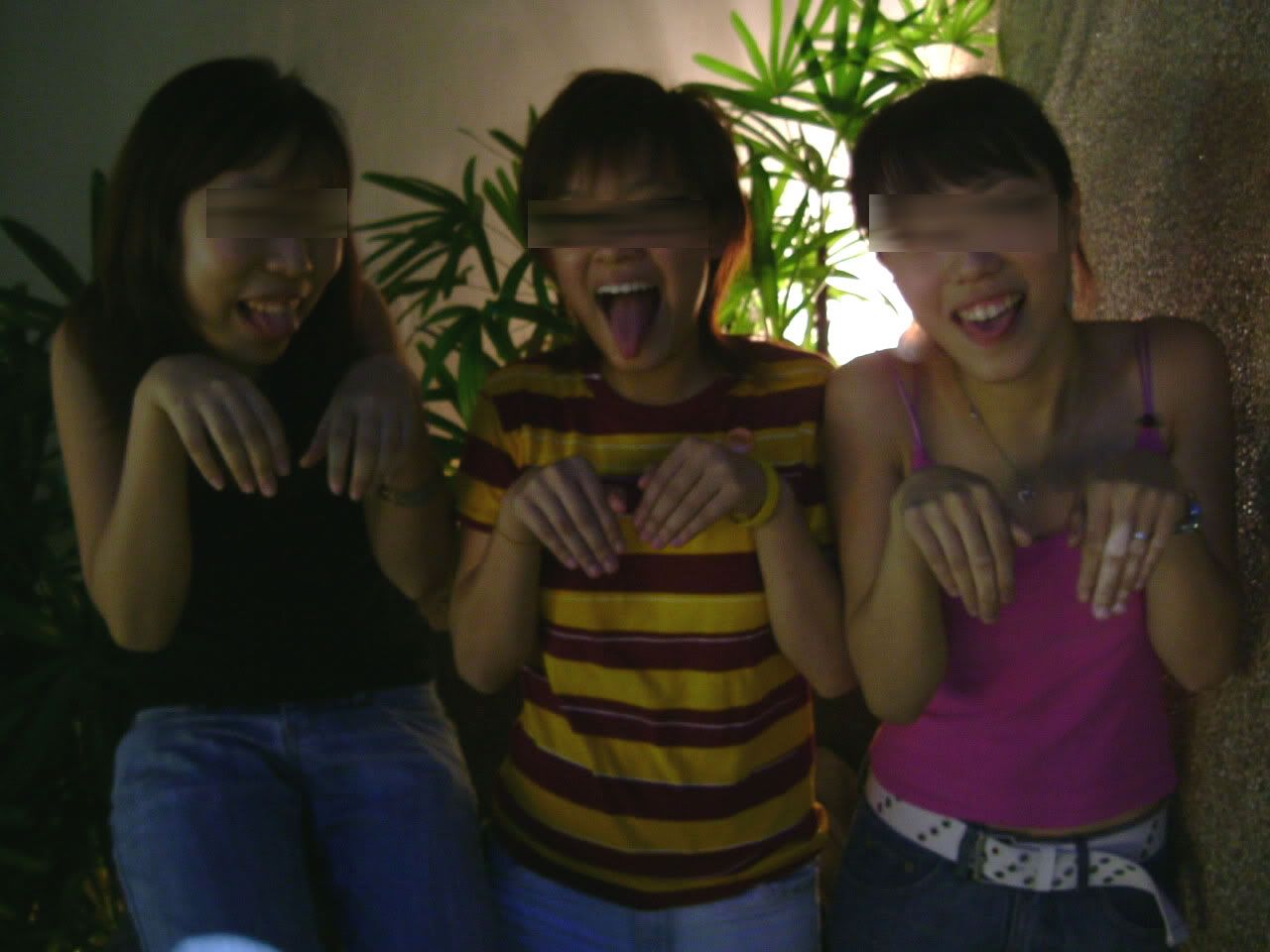 Yes, 3 strangers came up to ask & asked us to take this pic. They wanted to pass this message to you...
What breed is your dog?
Ok. That's totally crazy!
12 more days till my baby comes back.