Oh, & before the big clock strikes midnight, I have an announcement:
HAPPY 14TH MONTHSARY
,
DARYL GOH SOMETHING SOMETHING
! :D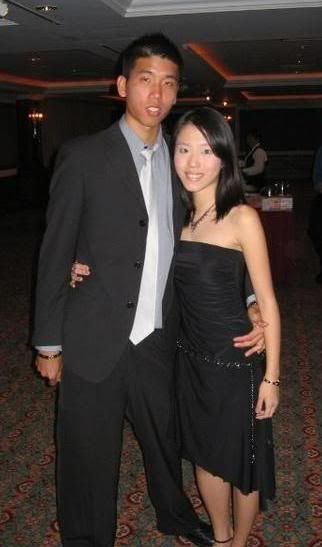 He's standing funny coz' it was tough fitting both of us into frame. :P Height difference, you see.
We celebrated by inviting my entire family to a grand feast at a Chinese restaurant.

...

Yah right. We had a grand feast because it was my parents' silver anniversary. 25 years! Whoot.

Soon enough eh, darling? We'll hit 25 years too!

We did celebrate yesterday though. Sort of...we had dinner at Marche & then we went to my favourite dessert place at International Plaza to have delicious mango ice-cream soaked in coconut milk. :) Yum.

& now I'm off to bed coz' I had a long day in Malaysia visiting my gran & all. & oh, of coz' I'll talk about my dysfunctional Malaysian relatives tomorrow. LOL.

Goodnight ya'all.