So I ain't supposed to reveal that I've been working on getting a tan coz' I'm supposed to return to school looking all sun-kissed & going, 'SURPRISE! No more white chicken!' But then yesterday was so much fun, I just have to go on about it so. Heh.

I met Daryl in the morning, & we cabbed down to Harbourfront to meet Ian who was all alone, as his girlfriend was working. We waited for Kian Gap & Hui Sia & we had Pastamania! MUAHAHAHA! 4 people having lunch, MY WAY! I have 6 stamps in my Pastamania passport already. Absolutely fanatic.


Went to Sentosa after that & it was horrendously crowded. I mean, I was there on Saturday & it wasn't this crowded, so why would a public holiday be any difference? So the entire population of foreign workers (I shall not be a country-cist/racist like certain people) were there & we had to squeeze like sardines in a can before getting on the many buses to Siloso.


It's strange because when we got there, there was NOTHING for us to do. It's harder to find something in common to do with more people, but it turned out to be really fun in the end! Wanted to canoe, but then all the canoes were rented out. That really sucks since I was so looking forward to it. So we ended up just tanning & splashing about in the water, & Hui Sia forced persuaded Kian Gap to buy the sandcastle set from the shop. & we actually utilised it! Ian was adamant on building a sand-castle & despite the waves crashing up & sweeping away his sand-castle, he continued to build bigger ones, with a moat this time round. Kinda reminds me of the spider who kept re-spinning her web after the wind has blown the previous ones away. LOL.


& then the guys did something so ridiculous (I can't believe Daryl went along with it coz' he hates doing retarded things & being caught on camera), Hui Sia & I snapped like a million photos. Daryl had sand sea-shells on his nipples, not unlike Ariel from The Little Mermaid. Ian had, strangely enough, little dolphins jumping across his hairy nipples. Kian Gap had on a sand tortoise bra. & they looked so absolutely cute with those sandy nipples, we JUST had to take photos. It took us a REALLY LONG TIME to get the perfect sea-shell, dolphin & tortoise shapes too. & the guys got really impatient but hell, it was quite a sight!


What in the world is Kian Gap doing to Ian?!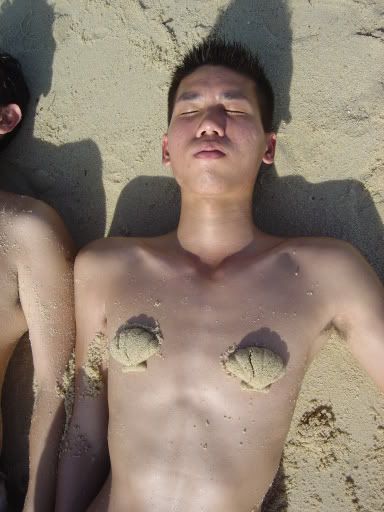 My darling being Ariel.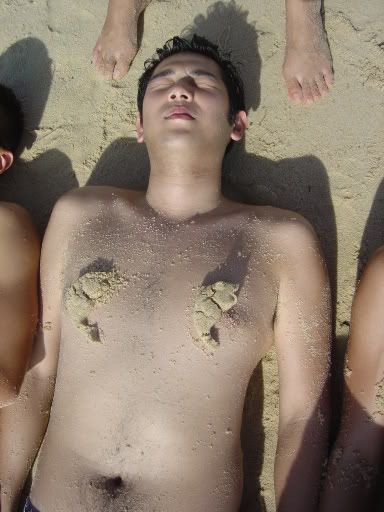 Ian's leaping dolphins.




Kian Gap's turtles.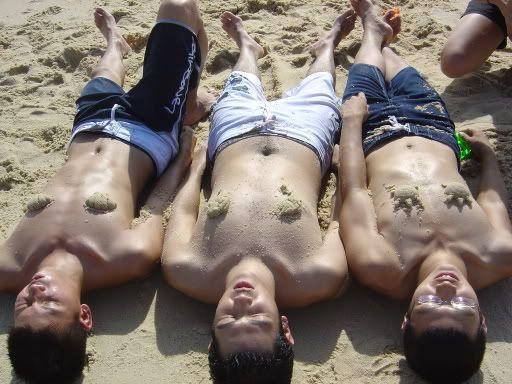 1 angle!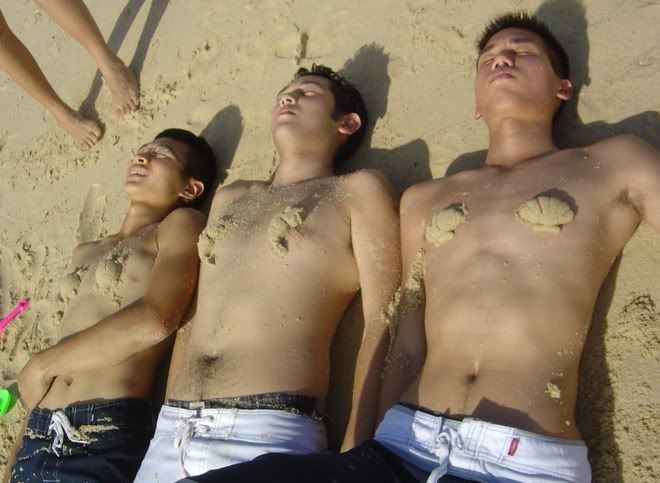 & another angle! (I know, my boyfriend has a teeny waist)

I hope those guys don't come after me for posing their half-naked peektures.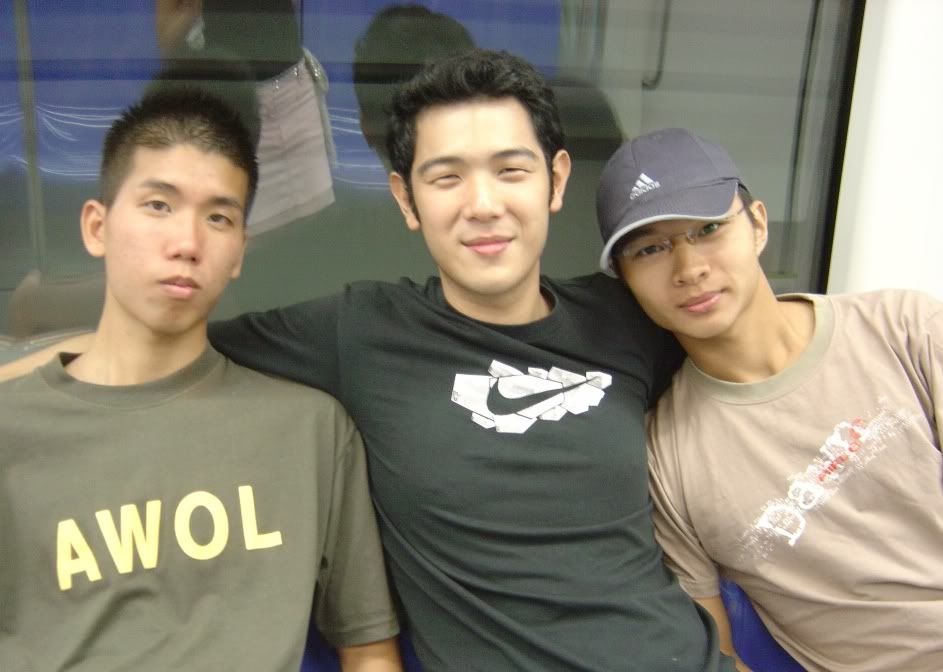 The 3 brudders.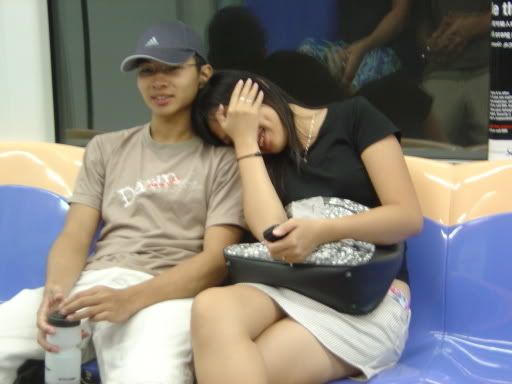 Hui Sia shunting the camera.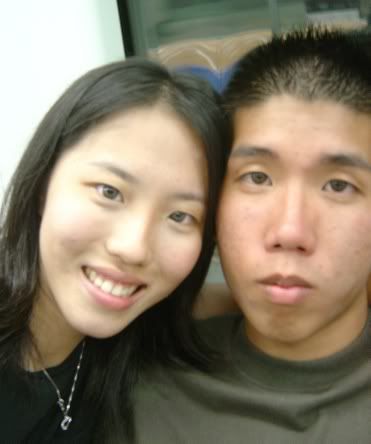 & me & my darling, me looking horrid with patchy skin.
& I'm all chirpy coz' I have a slight tan! I mean, it's not all that obvious but it's a start! At least I'm not deadly pale or like a nasty shade of grey/yellow/green anymore! :D I only got to bake under the sun for a couple of hours since we arrived there late but the next time round, it's hardcore baking! Lol.

Ian left to meet his girlfriend after we all showered & the 4 of us trooped to The Manhattan Fish Market for dinner. Honestly, the concept is such a rip-off of Fish & Co. but then, The Manhattan Fish Market has really good food at cheaper prices! I couldn't finish my fish & chips though. Granted, it's really nice. It's baked to perfection, with the flesh practically melting in your mouth & I absolutely adore the garlic butter but I'm not a fish person. I'm really picky about my fish. I dislike salmon, hate fried fish, refuse to eat the skin of steamed fish, & ONLY eat the steamed fish with snow-white flesh. :) So I guess even though The Manhattan Fish Market had good fish & chips, it wasn't for me. It's just...not...Pastamania. HAHAHAHA! Well, I would probably pop by there again to try its seafood platter. For one. Since Daryl is allergic to seafood. Oh wells!

We parted ways with Kian Gap & Hui Sia soon after coz' I wanted to go get my M)Phosis slippers, which unfortunately broke at work last week. I also wanted to replace my Body Shop comb which I left in Sentosa. BUT ALAS! I was down in luck yesterday. I went to The Body Shop & they stopped selling the comb I use! & I ONLY use that comb coz' the teeth do not hurt my scalp like all the other combs I have bought (like the untouched dozen lying around my room). Phooey. Now how?

Never mind, I shall go around with a bed head coz' bed heads are supposed to be sexy. Although I think I'll look more like a resident in the asylum.

Went to M)Phosis & once again, down in luck. This time, it's double whammy. I wanted to get the same pair of slippers, the white pair with the polka dots. They told me they don't sell that pair anymore.

So I browsed around for a bit & FINALLY settled on a striped pair. & then they told me they only had size 7 & 8 left. HELLO? I'm a 5! Any idea that you should be selling shoes for ladies, not the Abominable Snowman?

So I didn't get my comb, nor did I get the slippers. What foul luck! The only good thing is Ting managing to snag the boho skirt I want for $18. Hahahaha! Thanks hun! I owe you one! You are such a smart online shopper!

Went back to Daryl's place, had a quick shower (heh), & he drove me home when his parents got back.

& he told me today that I'm noisy. What the hell? I thought I always am? How come he seemed to have only realised that today?

I shall ignore all those negative comments about me, including those who see me & then tell me that I'm still as fair as before. I shall only absorb the good ones, like Daryl being forced to say Daryl telling me that I'm browner, I'm not fat, I don't have stumpy legs & my boobs aren't small. Oops! Oversharing!

I went to his alma mater, Ang Mo Kio Secondary School today to watch him grade the drill mutual. I insisted he look fierce for me (because when I first knew him, I read his testimonials & almost everyone called him the fierce guy who doesn't smile) but he refused & kept breaking out into a huge grin. & he told me, 'Last time no girlfriend very attitude what. Now got girlfriend already, happy already, cannot look like that anymore.' What the? Lol.

Anyway, I've forgotten half of the drills! In fact, I didn't even have drill mutual coz' I didn't go for Spec Course! HAHAHA! Such a slacker. Phooey.

& today, Daryl was the happy guy who thought everyone to be so damn good, the girls he graded had to be re-graded coz' apparently, their marks were too high. Today saw a mark of FEMALE POWER! ALL the girl were really good (& really fierce) & turns out that the CSM is a girl, & 2 of the Platoon Sergeants are girls! Whoot!

Anyhows, I bought a very pretty knee-length brown crumpled skirt today from Ang Mo Kio Central (very happy coz' it was pretty cheap)! My black boho skirt is supposed to arrive on Saturday. & I'm buying a few tops & the white paint-splattered skirt tomorrow! & hopefully, I can get my M)Phosis slippers from another outlet! Whoot! & then I'll start next week a broke person again! *snorts*

I shall just hop off now, shall I? Or someone's gonna say that I talk a lot again.