BEHOLD!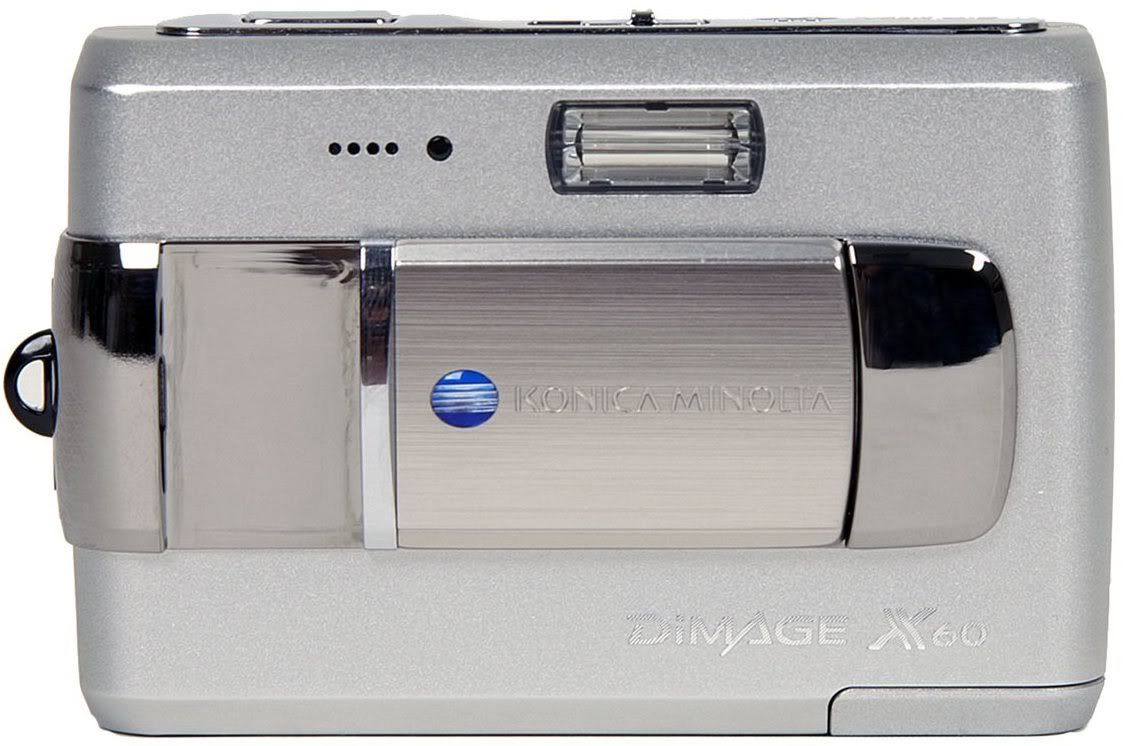 This is my new digital camera! Muahahaha! Well, I mean, this is definitely not a Panasonic Lumix or a Olympus mju (both of which I was deciding on) but my entire family went to Sim Lim Square & this Konica Minolta Dimage X60 is by far the best of the 3! The colour balance is spot on, unlike the Lumix which had a bluish tinge. This camera is ultra-compact, & the start up speed is amazing. After sliding the cover on, the start up wait is next to none. & the lens don't extend, instead, it's internal zoom! No shutter lag as well, which is all good coz' I hate shutter lag the most! Whoot!
It's supposed to be my birthday present from my dad but it seems to have become a family gadget. -_- Or my mom's camera, because she has booked it to be used on their trip to Thailand around Christmas season. FINE!
There's always Daryl's Sony Cybershot, which I had bought a cardreader for. So it ain't so bad after all! YAY! Finally, we can take peektures! Heh. I like that. Peek-tures.
& I did stay over at Daryl's place after the very dismal party at Chijmes' Liberte. It was funny, coz' it said 8-course dinner & free vodka. There was definitely free vodka, but the 8-course dinner was like, catered food. Noodles, bee hoon, meatballs (oh where did my meatball go?), muffins, swiss rolls...so Daryl went, '8 course ah? I think 8 dishes more likely.' LOL. Skye was super apologetic but then again, how were you to know that their 8 course dinner turned out to be catered food? Haha!
So Skye & YiYing left for some other party, while Daryl & I headed off to his place. We were gonna go Sentosa the next day so we decided to sleep early...well, after some Mapling, that is.
Had quite a fitful sleep because my boyfriend was tossing & turning the entire night. & I couldn't sleep properly because he would wrap his arms around me, then change his mind, push me aside & flip over. How to sleep, like that? The next day, he went, 'I couldn't find a comfortable position leh.' Bah! Heh. Never mind, forgive you lah. Since I was still sleeping next to you. :) I like.
The next day, I couldn't wake up because of the few hours of sleep I caught & Daryl was up & enthusiastic & I refused to wake up, so he woke me up in his unique way. Which never ever fails to get me up & running.
Went to Bukit Batok to borrow his friend's blades, & went back to his place & we quickly showered & took a bus down to Sentosa. I cycled again, & he bladed. Yep, an hour of blading after lugging the darn heavy blades all the way down to Sentosa.
& we tanned! I tanned, more likely. He is already so tanned. & he was bored stiff while I laid there on the towel, spread-eagle. Skye & Darrelle are gonna be so shocked that I actually went to the beach because in their opinion, I hate the sand, the sea & the sun. LOL. I still do, as in, I hate sweating & being all squinty-eyed in the sun, & getting sand in my clothes & I can't swim. But what I hate more, is both of them laughing at me for being so fair. SO THERE! I shall become so dark & tanned, you guys would be begging me to become fair again just so I can be seen in the dark. Muahahahaha!
& yes, I can't swim. Daryl tried teaching me. He went off towards the deeper end where I couldn't even reach the ground so I jumped onto his back. Hah! In fact, I had quite a lot of fun! I think I'm gonna go back there again either on Tuesday or Thursday, since Daryl took the entire week off. I think we're gonna apply for the Islander membership card. I think we'll become such regulars, we can finally work their blasted lockers without having to go & claim back whatever $1 coins the lockers had swallowed. Heh. & we're going to the swimming pool too!
I think I'm a little over-hyper but that's only because I'm happy! I get my pay tomorrow, school's starting soon, I have an iPod AND a digital camera, & I have a wonderful boyfriend who doesn't mind being dragged to wherever I want to go! :) Such life. Heh.