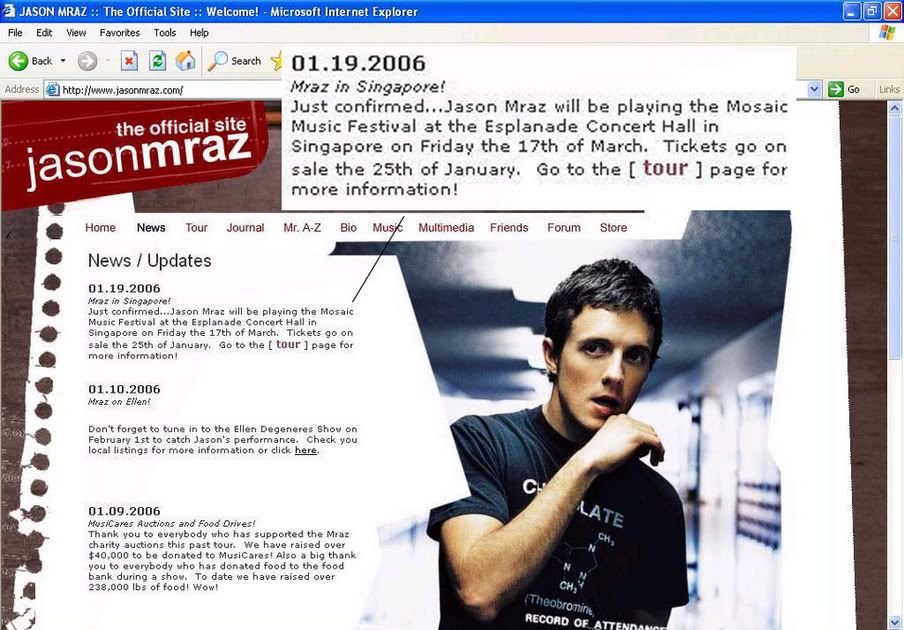 (click to enlarge)

AH! The enlargement's for the blind! It says 17th March! Oh god oh god!

I am TRIPPING over myself in excitement!

Ok, for those who think I'm mad. You have to understand that I thought I would NEVER EVER see Jason Mraz live in this lifetime since he went Manila & bypassed Singapore & he's just not as popular over here as he is in places like Japan, UK & the US. So I thought I'd never ever have the chance to watch him live.

& HERE HE IS! Wah lau. It's like a bloody dream come true ok? MY IDOL IS COMING TO SINGAPORE!

*does crazy somersaults*

If I'm lucky, I may be able to get his autograph (I shall bring all 4 JM discs I have) & take a few photos with him! & THEN I WILL BE SO DAMN HAPPY FOR YEARS! Hehehehehehehehe!

Actually, I shouldn't even be advertising this. What if people see this & buy up the good seats? What if I am left with the back seats? I WILL CRY ok? I shall replace my ATM card with darling when he comes back & then I shall immediately book the tickets! WHHHOOOAAA!

& I have the bestest boyfriend in the world who wants to go to the performance with me! I told him he might be grumpy watching me scream & giggle & shriek over some other guy but he said he'll just enjoy the music (he does think that Jason Mraz is a really good musician) & he can drive me around (go airport & stalk him, maybe) to go ga-ga over Jason Mraz!

I tell you, I have the BESTEST BOYFRIEND in the whole wide world! :D

Sorry, DAMN HIGH NOW! Utterly utterly happy!

JASON MRAZ IS COMING TO SINGAPORE AT LAST!

ARGH!