Anyway, the architectural tour we had last Saturday was...tiring. We watched Scoop after that, which was pleasant. It was funny, & really light-hearted. :) The music were all really cutesy as well.

My prof talking about buildings.



Daryl: "I can never understand the point of photos like this!"
Saw the cutest boy ever at PS tinkering with the drums.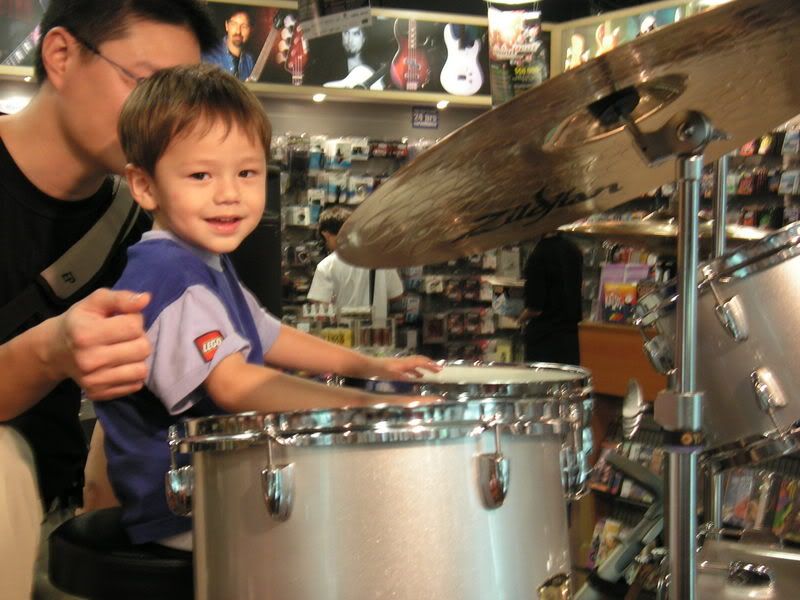 So cute!
MAH BIRTHDAY! My baby came over on Sunday & my whole family had dinner together at this restaurant at Ten Mile Junction. & then yesterday, my bee brought a cake to school. He wanted to surprise me but he failed, coz' I was going to school with him anyways. & it's so secondary school but so sweet! :) Everyone got a slice (well, except for me!) & my professor seemed to like it a lot. Heh.

Crazy ass photo.



Teh Fruit Cake.



Moi cutting teh fruit cake.



Jolene, Anais, Me, Stephanie, Celestina, Denise & Fiona! I look big next to little Steph.



Nice.


& my bee brought me to Pariss International Seafood Buffet for dinner, against others' advice. It was expensive, but we thought it wasn't too bad. There was VARIETY! Shark's fin soup, herbal chicken soup, bak kut teh with crocodile meat, abalone, foie gras, sashimi, crabs, prawns, lobster salad, pasta, curry salmon head, scallops, chicken fillet, dory fish, chawanmushi, dim sum, sushi, fried rice, chocolate fountain (which I kept disappearing to), little cakes, puddings, 6 flavours of ice-cream, more than a dozen beverages. Really, it was everything you could eat. We tried a little of everything, & I was like some greedy maniac. I was just too gleeful at the sight of all those glorious food that I had this permanent crazy grin on my face. MUAHAHA! FOOD!

& oh, I was the clown that splattered prawn juice (those red juice) all over my face while I was trying to peel my first prawn. Fantabulous. I thought it was just water so I continued peeling, while wondering why the guy on our right kept looking at me & suppressing a grin. & my boyfriend burst out laughing. Said I looked like I was covered in blood. -_-

& thatttt...concludes my birthday! :D