Anyway, my weekend wasn't THAT bad afterall.
I met up with Ting & her boyfriend & we had a double-date. Lol. Sort of. It wasn't exactly a date. Alright, you could call it a lunch date I suppose.
It was so last minute since she was supposed to let me know the day before whether we were meeting but she didn't tell me & I thought we weren't & on Saturday morning, she said she'll meet me at 2pm at Suntec. -_-
So we met her at Suntec & we had Kenny Rogers for lunch. Which is damn filling. & we shopped. Like, Ting & I shopped. The guys...followed. Hong Quan was sitting down at every bench/stool/chair/sofa available in every store we enter while Daryl stood outside hoping & hoping that we would be done soon. Lol. Ting bought a top while I bought shades. Which is quite funny since I don't wear them...but they're so...collectable. Haha.
& Ting & I embarassed ourselves in this shop at Marina coz' we were like talking so loudly about this piece of clothing which we thought was a tube dress, & we went on & on about how big it is & how anyone could fit into it & the sales lady was gesturing at me with her hands & I came to realise it is a skirt, not a tube dress.
I love ya, Ting! & you must make time for me on my birthday ok? :)
Then Hong Quan drove us all to town & Daryl & I went Heeren where I got him a Rip Curl polo shirt. Coz' he likes it & I just want to get it for him. Like what he says, buying things for him makes me happy. Haha! But I'm broke again! I have about $20 left in my account so I need a job! Halp!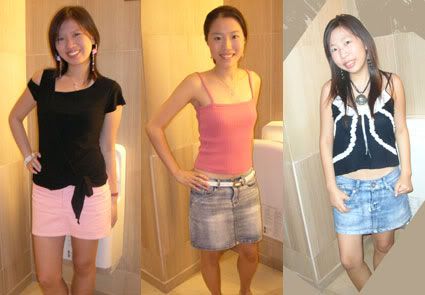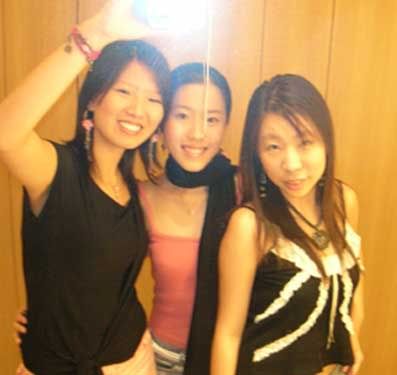 Those pictures were what we took the last time we went out together. We were in this hotel's toilet & decided to take pictures! I know, girls seem to LOVE taking photos in toilets, ain't it? Poor Floydie must have been bored to death waiting for us. Heh.