Eargh. Yesterday's World Cup had my dad losing $140 (he betted on Italy to win at full-time) & Daryl's dad losing $250 (his, on France). Wah lau, World Cup Finals, draw leh! Deprived me of one more hour of sleep. Phooey.
What the hell was Zidane doing? I was hoping that France would win because well, I like Zidane. He has always been good for Real Madrid, & ironically, I was telling my brother that he's a gracious player with good sportsmanship. & I was hoping that his last international appearance would be a good one. Well, no one can say that it wasn't memorable for him.
What possessed him to headbutt Materazzi in the chest? I didn't see it clearly but all I saw was them walking side by side, & they seemed to be talking. & then Zidane walked ahead of him & then he suddenly turned back onto Materazzi & headbutted him. It seemed rather unprovoked, & I don't know. Like something a mad man would do.
Maybe this was what was going through his head.
Zidane:
Since this is my last international appearance (& this match has proven boring so far), I'm going to do something SENSATIONAL! Something drastic! What should it be?
-turns around-
Zidane:
Ahhhhhhhhhh.
So that's why Materazzi was the chosen one.
Anyway, if the official didn't see it, Zidane might have gotten away with that aggressive & malicious headbutt, since the referee certainly missed it. I like him but that sort of act still disgusts me. He didn't look too surprised when he was sent off though. It's as if he expected it.
But Daryl said that Materazzi must have provoked him. Still, what could he have said that made Zidane do such a thing in the last few crucial minutes of the game? He knows that France is depending on him to take the penalty shoot-out, since he's their best penalty taker. He knows that the penalty shoot-out is crucial (since they can't depend on Barthez to save ANYTHING), & yet, he got himself sent off. Shouldn't he have kept his head & professionalism (after all, he's one of the most experienced players in the world) & wave off Materazzi's remarks, even if they were cruel & hurtful?
& Trezeguet, it's your fault that France lost. You missed a penalty. It wasn't saved by the great goalie - Buffon. It reflected off the top bar. Although a sudden death wouldn't have helped either. Since Italy would win the sudden-death.
Because Fabien Barthez is, in my brother's words, 'the weakest link'. He cannot save for nuts. During the ENTIRE game, the only few saves he made were gentle balls rolling into his arms. Unlike Buffon who did a spectacular jump & tipped the ball over the bar. Nope, Barthez would never be able to do that. I'm baffled as to why France continues using him. Even a gerbil can replace him in front of the net.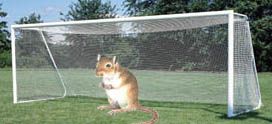 When all else fails for the gerbil, he has an extra tail! Or he can act cute. Or he can bite off the offensive player's nuts. Barthez can't do that. Altogther now, 'Marcooooooo!' 'Pollloooooooo!'
Anyway, Italy will bask in this glory for a while, & then go back to their uncertain futures in clubs involved in the Serie A scandal.