I know, I've disappeared for so long. You know, with the earthquake in Taiwan, & school, & work, & Daryl Goh, & my other 5 million excuses, I just never had the time. Where do I start? Let's start with: I HAVE A NEW PHONE!
Well, it's been a month or so now so it's not THAT new but yes, it's the amazing (amazingly battery-sucking) N80.
So far, it has been pretty good. The video calls have been clear & non-problematic, I like my customised Ok Go's ringtones, & I can't be bothered whether it's equipped with the latest tech-savvy stuff. Although I know that it is supposed to be pretty good. Black & cool? Check. Huge-ass screen? Check. 3.0 megapixels camera? Check. Bluetooth, GPRS, 3G? Check. Universal remote control? Check. Not nearly. But I don't understand why it sucks so much battery. It's madness. I have to charge it nearly everyday, even if I don't use it much! :( Oh wells. The price I have to pay! At most buy another battery lor.
------------------------------------------
So! We had a FUN party at Stephy's house. All the way at Pasir Ris. So far, ok? It took 743764652 hours to get there. I felt myself aging on the train.
But I love my classmates anyway! We played Apples to Apples, which is this really fun game. But you need someone random. We had James. He's as random as can be. He's from another planet altogether.
See, this game, is a word game. Everyone has 6 red cards, which contain random nouns & verbs (from Britney Spears to The Big Bang to Picking Your Nose). The green cards consist of adjectives. & one person is judge every round. The judge picks a green card & reveals it to everyone else. & everyone has a few seconds to think which red card in their matches the adjective on the green card best (the last person to put down a card is rejected). & the judge will then pick the best word which goes with the adjective. The winner of the round gets the green card. The first to get 5 green cards wins the whole game. & IT IS FUN!
So let's see what James did. The adjective was: delicious. & everyone dutifully placed (face-down) their red cards around the green card. & the judge opened them one by one & read them aloud. & one of the cards was, 'Spit'.
So James tried to convince us why spit is delicious. & he did so very seriously. & he likened it to kissing, exchanging saliva & such. & we were all laughing hysterically. & Stephy yelled at Shermain, Sherm! Do you spit into your boyfriend's mouth when you kiss? which made us laugh even more. Poor James. Bullied everyday, every hour.
------------------------------------------
& uh, school's out! On the last day of lecture, we brought our professor to lunch. He's great, & we heart him. He does fantastic impersonations of Goofy/Donald Duck/Inspector Closseau/Bert & Ernie/Big Bird/Oscar/Cookie Monster/Japanese speaking English/Italian mafia, everything you can think of. We were so tickled, we stood around the Christmas tree in Taka for 2 hours just chatting with him. & taking videos of him doing those fabulous impersonations. I don't have the video but will upload when I do!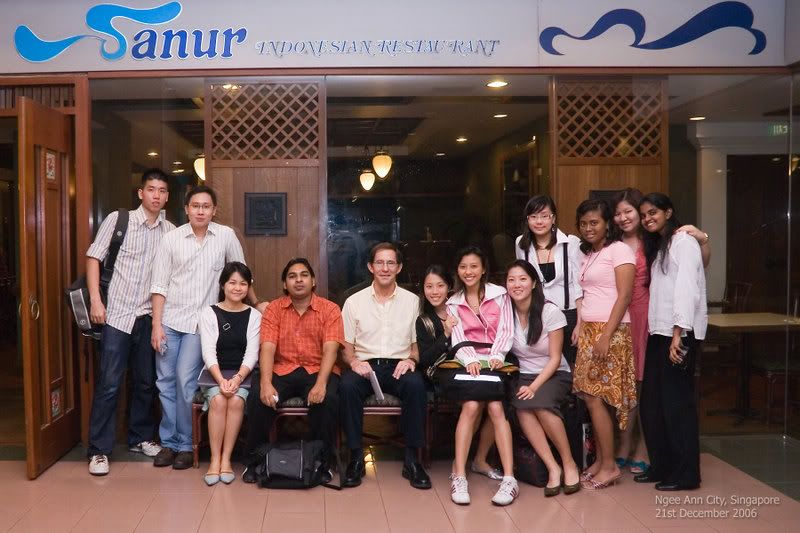 My fab class outside the restaurant we had lunch in.

My fab class at Taka's Christmas tree.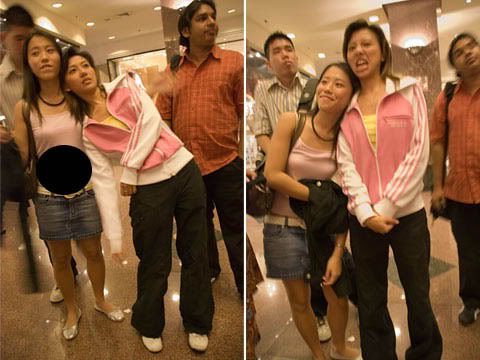 Little Stephy & me. Censored coz' tummy was just way gross. It was the lunch! & my excuses!
& she's my new lesbian lover. Sorry Daryl, sorry Mike.

My darling & I had a go in front of the Christmas tree as well. Chubby coz' of the upwards angel. Honest.
------------------------------------------
& oh, I've met up with Awesome 4some as well! We went for dinner last Saturday, & it was so much fun as well. Although town was awfully crowded, we squeezed & grunted our way through the mass of bodies. Had Thai Express at PS, & then went searching for some Paul Frank slippers for Tiffy's potential 'boyfriend'. Paul Frank for 'boyfriend'. Actually, it was a girl. Farna misheard. :P As usual. I love going out with them! My Idzy Vidzy, Tiffy Wiffy aka Tofu aka Tiffy Warrior aka No Life, & Farhana aka Farna aka Wifey aka Bomb Hair.
Then we walked walked walked & had ice-cream at Gelare. Evil Gelare doesn't serve water. Vidz & I went to Guardian & bought a 90 cents 1 liter bottle & filled up Tofu's little water bottle & we all shared. It was so silly.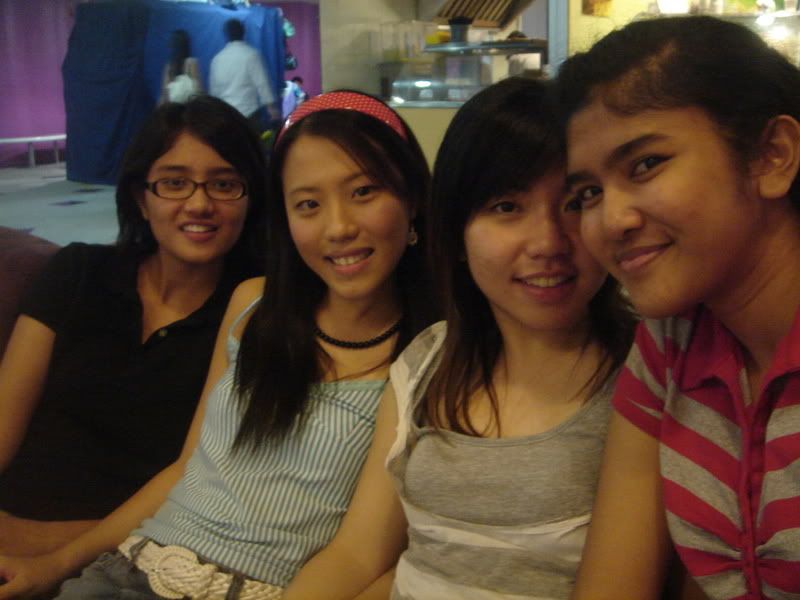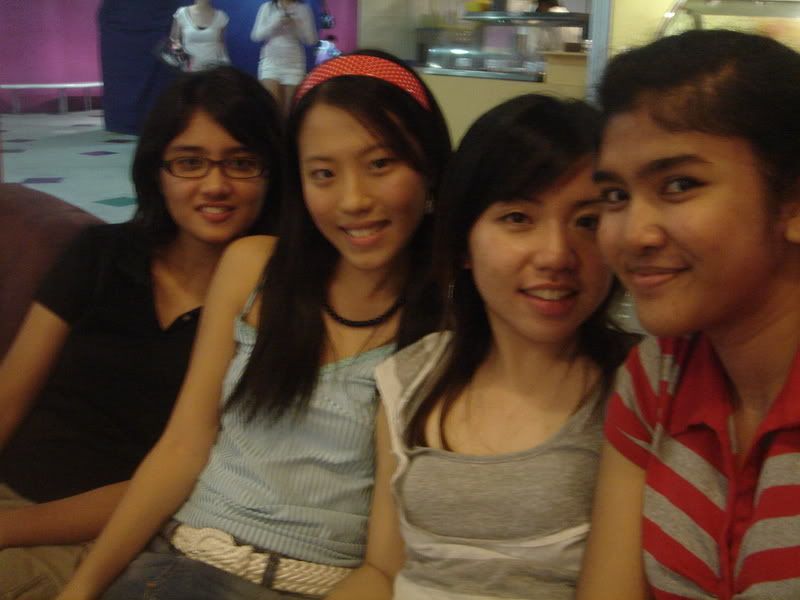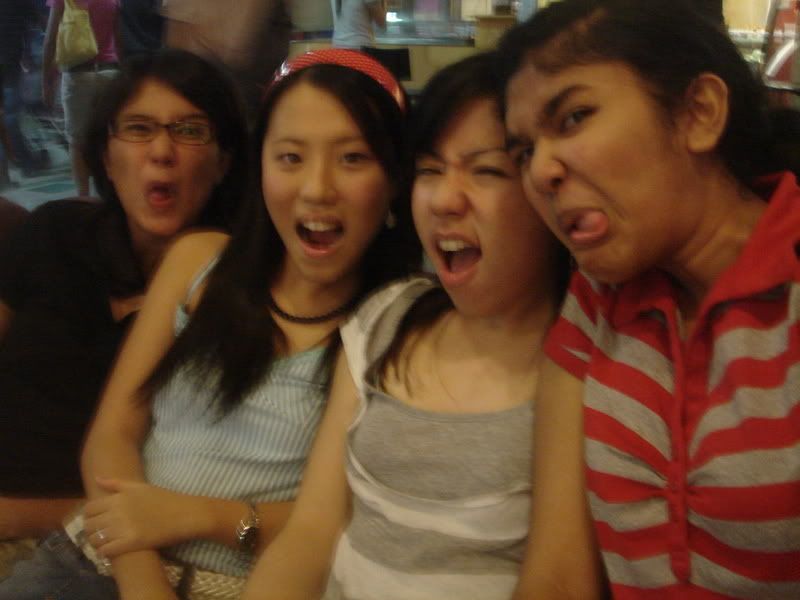 My Tiffy Wiffy & I!

My Idzy Vidz & I!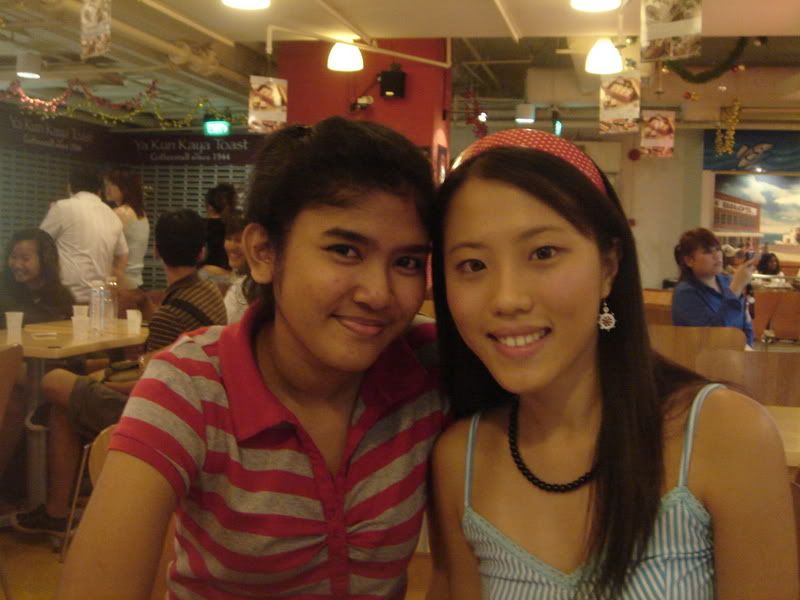 My Bomb Hair & I!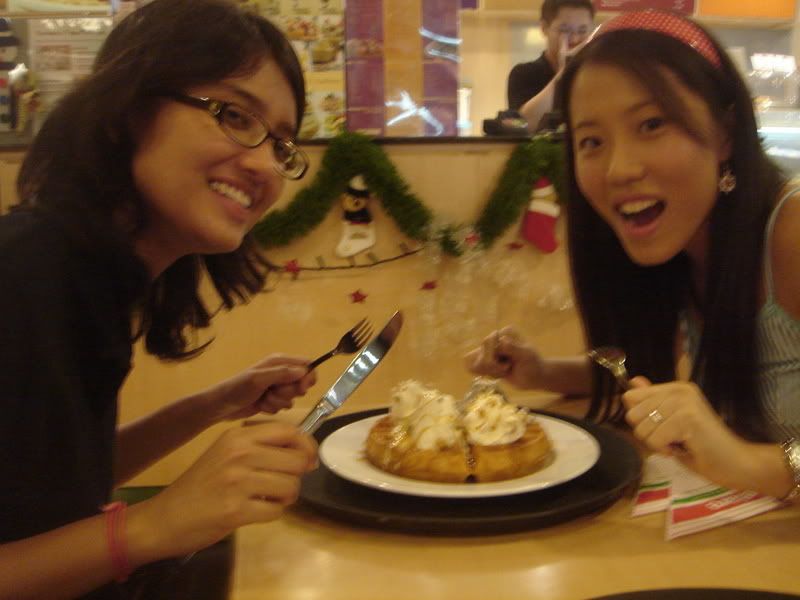 Gelare = fattening. But we heart anyway.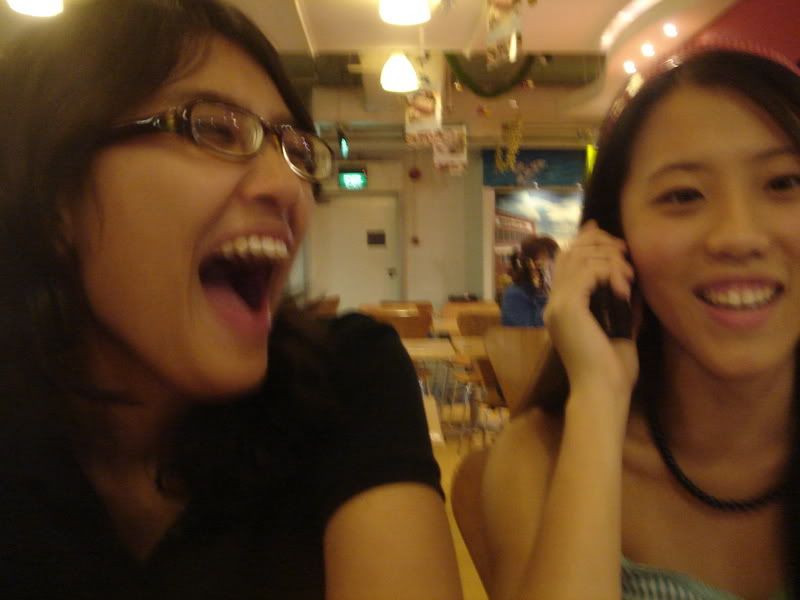 Very candid. I was telling Darling that Tiffy finally has a life & Vidz roared with laughter.
We took tons of wonky photos. Which were not meant to be wonky. But became wonky anyway because we refused help. I love my Awesome 4some!
------------------------------------------
& I love my boyfriend too, of coz'! We have been so lovey dovey because he had this nightmare where I organised some sort of mass orgy for a bachelorette party & then ran away with Rain, the no-eyes Korean singer. Why? I don't know why. I don't even fancy Rain. -_- I've never talked about him, nor watched his shows/heard his songs. So that was a bit of a ridiculous idea.
& before I forget, HAPPY NEW YEAR to everyone! I have some Christmas photos (of family dinner) but they're in my phone & I'm too lazy to upload them. Will do so next time round. But yes, Happy New Year! Throw away your resolutions, because they're cliche! :P